Jura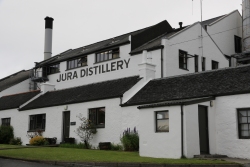 We hadn't been to Jura before, mainly due to time limitations, so this visit was restricted to the standard distillery tour. Tour guide was Adam who had an excellent grasp of how the distillery works, it's history, range of products and so on. Jura has two ferry services, a passenger service from Craighouse to Tayvallich that runs only in the summer and not on Tuesdays, and an all-year vehicle service between Feolin and Port Askaig. The vehicle ferry shuttles back and forth and no booking is required. This is the service that transports all goods to and from the distillery.
After a major refurbishment in 1979 Jura has one large mash tun, six 48,300 litre stainless steel washbacks, two wash stills, two spirit stills and produces 2,200,000ℓ of whisky per year. Water for the distillery comes from a source three miles away. The stills are the second tallest in Scotland, only Glenmorangie having ones that are taller. Its malted unpeated barley comes from Bairds of Arbroath and the peated barley, which is used to produce spirit for four weeks only as a 10% component in its "unpeated" whiskies, comes from Aberdeen. The distillery has a delivery of barley every day but has a week's worth of stock to keep it working in the event of a disruption to ferry services. 140 tons of draff is produced each week and this is sent to Islay as animal food.
The spirit stills produce 70% new make spirit that is reduced to 63.5% before being put into casks for maturation. This reduces the amount of evaporation during the first couple of years. 30,000 casks are stored on Jura, any excess being sent back to the mainland.
Daily Distillery Tour ÂŁ6
The tour was taken by Adam and the tasting was a choice from The Journey, 10- and 12-year olds with Oloroso finish, Sevenwood, The Sound finished in 15yo PX casks, The Bay finished in 12yo PX casks and The Road finished in 20yo sherry casks. The latter three are currently available only as 1ℓ travel exclusives but you can find them on websites in the UK.
Purchases