Bowmore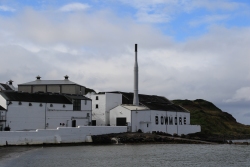 Bowmore was established in 1779 and has been in constant operation ever since - it's currently owned by Beam Suntory. Since the early 1990s, it produces whisky only as a single malt; nothing goes for blending. It is one of the three distilleries on Islay that malts its own barley, the others being Laphroaig and Kilchoman. It produces a core range and then various limited edition finishes and cask strength editions.
Bowmore has a three floor malting house and each floor can process 14 tons of barley at a time. Water comes from the Laggan river. Barley arrives at the distillery and undergoes a 27-hour steep and then a 24-hour period for it to germinate. After that, the barley is left to grow a shoot for 4-5 days in summer or up to 6-7 days in winter at which point growth is stopped by drying it. The smoking period is about 18 hours, followed by drying for a further 42 hours. A phenol range of 25-30ppm is typical. The malted barley is ground, 8 tons taking about 3 hours to mill and then it's to the mash tun where 67000ℓ of water at 64.5°C is used to extract the sugar from the grist. There are six wash backs and each batch uses 100kg of yeast and takes about 52 hours to finish fermenting. The alcohol at this point is about 8%. The wort is now sent to the wash stills where the alcohol is evaoprated leaving a low wines spirit of about 22%. This is further distilled in the spirit stills to give a final spirit of about 69%. This is reduced to 63.5% by adding purified water before putting it in casks.
Tasting Tour £10
Excellent basic tour that covers malting, mashing and distilling. Tour guide Evie. Two wash (30940ℓ each) and two spirit stills (14637ℓ and 14750ℓ), six wash backs. The wash backs had previously been stainless steel but were replaced with Oregon pine because some of the flavour had been lost. The tastings at Bowmore were standard whiskies at 12 and 15 years old.