Ardbeg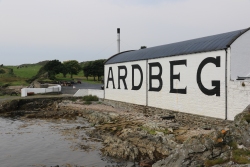 Ardbeg is located on the southeast coast of Islay. It was established in 1815 and currently owned by Louis Vuitton Moët Hennessy. The distillery produces 1,500,000 litres per year and takes its malted barley from Port Ellen. All the spirit is 55ppm. 5 ton mashes are done sixteen times a week. The first wash is 17,500 litres at 64°C and the second is 5,500ℓ at 80°C. A third wash at 85°C goes into the first wash of the next batch. Agitators in each wash back make the process more efficient by stirring up the yeast sediment so it takes less time to clean out the wash back. The distillery is doubling its capacity and building works are currently underway. The new still house will be based on a site once occupied by warehouses, while the area where the current still house resides will be repurposed to house more washbacks. Tours will continue throughout the building works.
The Ardbeg visitor centre and shop also contains The Old Kiln cafe where you can buy a quick snack or something more substantial.
Ardbeg was silent between 1981 and 1989 and ran at a low output until 1996. It was bought by Glenmorangie for £6m and this was £4m for the stock and £2m for the buildings. Production restarted in 1997 and then at a higher capacity in 1998. Older stocks were still available for sale and the excellent 1977 edition now fetches around £600 a bottle. Ardbeg was originally providing all its output for blending but now keeps everything for its own single malts, either as the 10 year old, Uigeadail, Corryvreckan, the latest An Oa, special editions or with various finishes. There is an Ardbeg 1815 50.1% limited edition bottling of 400 bottles at £3000 each to commemorate the 200th anniversary. The whisky was distilled in 1974 and 1975 and aged for 33 years with a further 8 years spent marrying in glass containers for preservation. The 1974 spirit was matured in bourbon barrels while the 1975 spirit was kept in sherry casks.
Ardbeg's Feis Ile 2019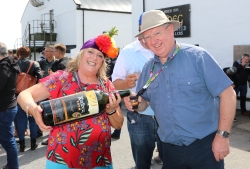 We spent the whole of Ardbeg's Feis day at the distillery and there was a very long queue before opening time. Some people had chairs and blankets and had clearly been waiting for a long time for the limited cask releases. The entrance fee was £5 and included a free dram token and also a token for free hot smoked mackerel. Even if you didn't buy a ticket, there were plenty of free drams available, including Drum, and some long lost drams at additional cost. There were bands, oysters, pizzas, ice cream, games, tasting sessions, a parade at midday and the Kiln Cafe was open as usual. Glen Downey was there painting a huge mural on the side of the filling store.
Back To The 90s Tasting £65
This tasting took place for the first time on the Ardbus, a double-decker bus parked temporarily in the distillery square. A clue to the types of drams we would taste was in the title, and we weren't disappointed. We were taken through the tastings by Ron and these took place on the top deck of the Ardbus and there were canapés with each dram. The bus was on a 4-month contract to Ardbeg and had most recently been used for Nespresso events.
21 year old first fill Bourbon, 46% cask strength distilled in 1994, bottled in 2015 and released in 2016. This was accompanied by smoked mussels. 6000 bottles.
22 year old first fill Bourbon, 46.4% cask strength distilled in 1996 during the only 7 weeks that the distillery was operating that year. This might have been the last whisky from Ardbeg had the distillery not been bought and redeveloped. This was accompanied by goat's cheese and sun dried tomato on bruschetta.
23 year old first fill Bourbon, 46.3% cask strength distilled in 1994 and released in 2017. It contains about 7% whisky that has had an Oloroso finish. This was accompanied by venison salami on bruschetta.
Renaissance, 10 year old first fill Bourbon at 55.9%.
Purchases