WHISKY GALORE TOUR 2018 - AKA "OH NO, NOT A THIRD TIME"
Yes, this is the third visit to Islay and its distilleries and we brought along a different couple with us on this occasion. We also managed to visit Arran on the way to Islay so the Arran distillery visit is included too. However, time was limited due to other commitments and so we didn't manage to revisit all eight distilleries on Islay. With prior knowledge of the Islay Safari Supper in August, we timed the visit to coincide with that - a full itinerary to be sure.
Distillery
Tour Name
Thu 9th Arran
Fri 10th
Sat 11th Islay
Sun 12th Islay
Mon 13th Islay
The Arran Distillery
Standard
10:00
Bruichladdich
Warehouse
11:00
Kilchoman
Standard
14:00
Safari Supper
19:00
Bunnahabhain
Standard
11:00
Bunnahabhain
Warehouse 9
12:00
Caol Ila
Standard
16:00
Laphroaig
Standard
10:30
Ardbeg
Standard
15:00
Ardbeg
Tasting At Two
14:00
You can also read about the Whisky Galore Tour 2016 and Whisky Galore Tour 2017.
News
Since last year's visit I have enjoyed the Bunnahabhain 12, amongst others. This has been on special offer again at Waitrose - reduced from £36 to £30 - so I stocked up while the opportunity presented itself - it would have been rude not to! Ardbeg's An Oa has also been on offer at Waitrose.
Ardnahoe did not open as expected in May 2018 and the date has now been put back to September or October. There's more on Ardnahoe here.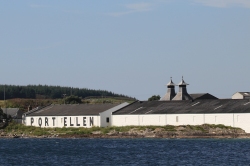 Although Diageo announced back in October 2017 that it was intending to re-open Port Ellen and Brora, there is little evidence of any activity at Port Ellen. Brora can be brought back into service reasonably easily with a target date of 2020, whereas Port Ellen has been partially dismantled. The original news story can be found on the BBC website and there's statement from Diageo here.