Bruichladdich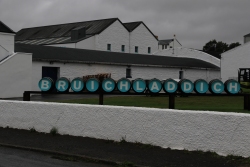 The distillery is located on the Rinns of Islay peninsula and was established in 1881. It had a difficult life, closing in 1994 and re-opening in 2001. It originally had its own maltings but these were removed and it now obtains its peated barley from Bairns of Inverness, though it uses Islay barley for its unpeated Islay editions. Bruichladdich produces three distinct ranges: unpeated as Bruichladdich, 35ppm peated as Port Charlotte and 160-350ppm as Octomore. The original Port Charlotte distillery closed in 1929 and only its name continues today. A few of the old distillery buildings remain and some are used for maturing the "Port Charlotte" brand.
Production is 1,500,000 litres per year. The distillery is owned by Remy Cointreau. Distillery output prior to 1994 was used for blending into White Horse.
Feis Ile 2019 Masterclass £75

As one of the 200 winners in the Masterclass ballot (out of 510 applications), I was able to reserve and buy two of the Octomore Event Horizon Feis Ile bottles. This release is the oldest to date at 12 years old and the Bruichladdich website describes it as
This super-heavily peated Octomore spirit, reaching 162.6PPM, was distilled in 2007. It has spent its entire maturing life in the finest Oloroso and Pedro Ximinez butts from Fernando de Castilla. Just four were hand selected and combined to create a whisky of astounding rarity and significance. Having celebrated its 12th birthday in February this year, it is the oldest Octomore released to date ... It was bottled unchilfiltered and colouring free at 55.7%abv and is limited to just 2,000 bottles.
and Adam Hannett says:
The flavour profile is unbelievable, huge smoke, huge dried fruit notes and an earthy, rounded presence on the palate, unlike younger expressions of Octomore this is less vibrant but it has even greater depth of flavour - tobacco, coffee, tar, leather and that earthy dried smoke quality.
The Masterclass itself was excellent - you can view it on YouTube (session starts at 03:15 in). It was introduced by Douglas and lead by Adam Hannett and comprised six 25ml tastings, all Octomore. The Octomore range is classified using two numbers separated by a point. The first denotes the general release and second denotes specific editions based on the source of the barley, oak type and cask origin. These are listed in the box to the right.
What's in a number?
.1 editions are distilled from 100% Scottish barley. In recent years they have been primarily aged only in ex-American oak, in varying percentages of different ex-bourbon and ex-Tennessee whiskey casks. They are the backbone of each new series as they demonstrate the raw character of the clean Octomore spirit balanced with the neutral American oak casks.
.2 editions are distilled from 100% Scottish barley, as per their .1 counterpart, but matured in European oak casks along the lines of ex-Amarone, ex-Sauternes, ex-Austrian sweet wines and the like.
.3 editions are distilled from 100% Islay barley. They are single estate, single vintage bottlings from barley grown on farmer James Brown's land. These whiskies are generally matured in a mixture of ex-American and ex-European oak, subject to change for each edition.
.4 editions first came onto the scene during the 7th series and maturation is in some virgin oak that introduces a tannic and spicey taste. Occasionally, the .4 edition is something weird and wonderful.
Octomore 10.1, 107ppm aged for 5 years, 59.8%. Citrus, vanilla, smoke, smooth, soft, honey, heather. Pale in colour, not harsh or burning.
Octomore 4.2, 167ppm aged for 12 years first in Bourbon then Chateau d'Yquem Sauternes dessert wine casks, 61%. Gentle, soft, dry, pineapple. Pale amber in colour, smoother with water.
Octomore 8.3, 309.1ppm aged 7 years, 60.7%. A blend of 50/50 first fill Bourbon and Syrah and other red wine casks. Peaty, oily, soft, floral, syrupy, caramel.
Octomore 10.4, 88ppm aged 3 years in virgin oak, 63.5%. Raspberries, smooth, warm oak, leather.
Octomore Feis Ile 2019, 162.6ppm aged 12 years, from 2 Pedro Ximenez and 2 Olorosso casks from Fernando de Castilla. Dried fruits, mixed peel, oily, sweet, good depth of flavour. The production of 2000 bottles was sold out in 58 minutes. Masterclass attendees were guaranteed their choice of one or two bottles. At the auction in the yard in the afternoon, bottle number 0001 was sold for £4000 for charity.
Unique blend of 2 rare 2002 casks and others, youngest whisky is 2011, 59.5%. Complex, smooth. 80+ppm. Only available for the Masterclass.
We returned to Bruichladdich later in the week for a Warehouse Experience. We had done this on previous occasions but of course the whiskies are different to last time. David was the tasting guide and we were in Warehouse 6.
Cask 397, Bruichladdich 18yo 55%, distilled on 17th October 2001 and lightly peated to 5-10ppm. Matured in first fill Jim Beam Bourbon. Tasting notes: smooth, toffee, butterscotch.
Cask 54, Port Charlotte 15yo 56-57%, distilled in 2004 at 40ppm and matured in first fill Jim Beam Bourbon for eight years and then French vins doux naturels casks for seven years. Tasting notes: no immediate peat, caramel, creamy, peaty finish.
Cask 1, Octomore 6.3 remnant 9yo 63.5% and the first ever x.3 Octomore, so it was made using Islay barley from Octomore Farm. Distilled in 2009 at 258ppm and matured in first fill Bourbon.
Purchases