Cotswolds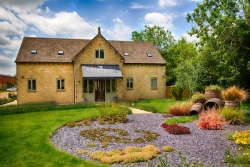 The Cotswolds distillery was founded by Dan Zsor (pronounced "shore") of New York. He spent most of his professional life specialising in finance and financial services and working in Paris and London. In 2011 he moved to the Cotswolds and in 2014 opened the Cotswolds Distillery producing a dry gin and a single malt whisky. A range of different products has evolved since then. The distillery has a visitor centre and there were 35,000 visitors in 2018.
Barley from selected local farms is sent to Warminster Malt for malting. It returns to the distillery where it is milled into grist. Each mash comprises 500kg of grist which is treated with a first water at 65°C then a second water at a higher temperature and then a third at up to 90°C. The third water has so little sugar in it that it is used as part of the next batch's first water. There is one mash tun and ten 2500ℓ stainless steel washbacks. The wort has Anchor and Fermentis yeasts added and then it ferments for four days after which it contains 8-9% alcohol. The wash goes into the wash still where it is distilled to produces low wines at about 25-27% alcohol. The low wines then go into the spirit still which produces a heart spirit in the range 75-67% alcohol. This is reduced to 63.5% before being put in casks to mature.
The distillery produces approximately 220,000ℓ of 63.5% spirit per year, which is equivalent to about two casks each day. There are two expressions available and these were tasted on 21st June 2019 at Rodney Densem Wines in Nantwich:
Odyssey Barley at 46% NAS, which is a blend of 70% whisky matured in Portugese red wine casks and 30% whisky matured in first-fill Kentucky bourbon casks. Tasting notes: dried fruit, honey, treacle, citrus.
Founder's Choice at 60.9%, which is a cask strength whisky matured entirely in Portugese red wine casks. Tasting notes: Elastoplast, vanilla, honey, toffee.
The Portugese red wine casks are STR (Shaved - Toasted - Recharred) conditioned - this means that the staves are shaved by removing 1-2mm and the cask is then toasted slowly using oak chips to caramelise the new oak sugars and vanillans. Finally, the casks are then recharred for a very short period. Both the Portugese and Kentucky casks are only used once by Cotswolds.
Tour
Alison provided a very good tour around the distillery. The tour started with a video about the origin and setting up of the distillery followed by a visit to the mashing, fermenting and distilling areas - these are all in one building. After that it was a trip to the warehouse where some of the stock is matured; other stock is held at an underground warehouse in Liverpool and at other locations.
Gin
The distillery also produces gin as a means to generate income while the whisky is maturing. 96% neutral grain spirit made from wheat is bought in as the base spirit for gin. Various botanicals are added to the spirit, firstly juniper, coriander seed and angelica root and then later cardamom, lavender, grapefruit and lime zests, bay leaves and black pepper. This mixture is allowed to infuse with the spirit before being distilled. The distillation produces heads, hearts and tails just like whisky but the heads and tails are not re-used but sent away for reprocessing into biofuel. The gin is bottled at 46% and is non-chill filtered so that the oils are retained and make the gin cloudy when diluted with a mixer.
Other Products
The range of products is increasing with a 17% ABV cream liqueur made from new make spirit and Irish cream, a barrel-aged gin, baharat gin, ginger gin, summer cup, espresso martini, spirited sherry, limoncello and absinthe.
Purchases