Ardnahoe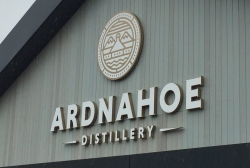 Ardnahoe is a new Islay distillery that can be found about 2½ miles up an unnamed road going north from the A846 about one mile from Port Askaig. It's easier to follow signs for Bunnahabhain, which is on the same road but 1½ miles beyond Ardnahoe. It opened in October 2018 and is currently producing at a rate of 700,000ℓ per year and production is being increased gradually. The developer, Hunter Laing, has stocked the distillery shop with its own bottlings, some very nice Ardnahoe-branded leather goods, clothes, accessories and mementoes. The previous shop at the Islay Square has been closed.
THE DISTILLERY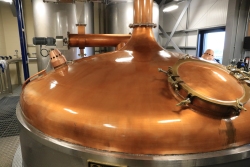 Ardhanoe makes its spirit with water that comes from Loch Ardnahoe and malted barley that comes from Port Ellen and peated to 40ppm. The peat comes from Castlehill on Islay. Malted barley is milled in batches of 2.5t and there are four mashes each day. Water is added to the grist at three temperatures; 63.5°C and 80°C for the first and second waters that go into the Oregon Pine wash backs and a final water at 90°C that ends up as the first water in the next batch. There are four wash backs and one is filled each day with cooled wash at 19°C. Fermentation takes fifty hours but the wort is left for a further twenty hours as this has been found to improve the flavour. One wash still of 12,500ℓ capacity creates the low wines; the spirit still runs for 7½ hours with the heads finished after about 40 minutes, the hearts taking 2h20m to 2h40m and the remainder being the tails. About 1000ℓ of 70% new make spirit is distilled in each run. Spirit vapour is condensed in one of two worm tubs outside the still house and each having, including the line arms, 77m of copper pipe. This gives the spirit vapours more time in contact with the copper to produce a more refined spirit.
Kinship Tasting £150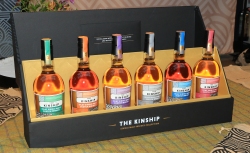 Ardnahoe joined the Feis Ile celebrations with its own Kinship Tasting evening with Jim McEwan. Stuart Laing of Hunter Laing welcomed everyone and then handed over Jim. Jim took us through the tastings, offering his own tasting notes as a guide to what we might experience. The tastings were interspersed with live music and Jim's stories of working in the whisky industry for 56 years. The tastings were all Islay whiskies with ages between 18 and 40 years old.
A set of the six whiskies tasted, including display box and information booklet, is £4089.00. Each of the bottles are also sold separately with the exception of the 40 year old Caol Ila; this produced the fewest number of bottles and those were used to make up the sets. The number of bottles produced was: Bunnahabhain 560, Caol Ila 371, Bruichladdich 555, Bowmore 644, Laphroaig 609 and Ardbeg 387. Individual bottles cost:
Ardbeg 1992 26 Year Old, £875.00
Bowmore 30 Year Old, £495.00
Bruichladdich 27 Year Old, £450.00
Bunnahabhain 30 Year Old, £495.00
Laphroaig 18 Year Old, £269.00
The older whiskies deserved some serious contemplation; what were you doing 40 years ago?
Bruichladdich 27yo 50.2% from refill Bourbon hogshead. Tasting notes: floral, light oak, leather.
Bunnahabhain 30yo 48.5% from marrying of one refill sherry butt and one refill Bourbon hogshead. Tasting notes: warm, mellow, dried fruit, lemon curd.
Caol Ila 40yo 44.9% from refill Bourbon hogshead. Tasting notes: smooth, creamy, honey.
Bowmore 30yo 46.2% from refill 1988 hogshead. Tasting notes: creamy, soft.
Ardbeg 26yo 47.2% from refill hogshead. Tasting notes: cut grass, leather, oily, salt - decidedly Ardbeg.
Laphroaig 18yo 56.4% from refill Oloroso butt. Tasting notes: sherry, smoke, chocolate, Elastoplast, cedar.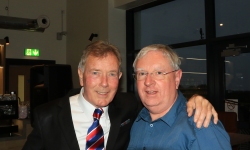 You can find more information on the Kinship Collection here.
At the end of the evening demand for Jim's attention was high but I managed to have a quick photograph with him.