Bunnahabhain Coterie 2019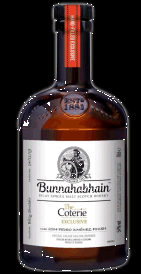 This is the first Coterie release for members. This whisky was distilled in 2004, finished in PX casks and hand bottled on 14th November 2019.
Tasting Notes
Colour - Deep red cedar in colour, reflecting the influence of the sherry cask maturation
Nose - On the nose there is an oily, tar note, followed by rich fruits, figs and cinder toffee
Palate - Initial notes of caramelised ginger, sweet candied fruits followed by earthy nutty and coriander flavours are followed by stronger notes of stewed fruits and Demerara sugar, softer notes of elderflower, cinnamon and nutmeg are balanced with a nice peppery note.
Finish - Long, lingering oily aftertaste, briny and earthy notes which transitions to end in a smooth sweet Manuka honey finish.