Ardbeg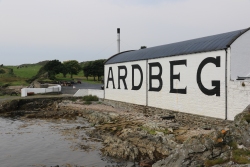 Ardbeg is located on the southeast coast of Islay. It was established in 1815 and currently owned by Louis Vuitton Mo√ęt Hennessy. The distillery produces 1,400,000 litres per year and takes its malted barley from Port Ellen. The target for 2018 is 1,500,000 litres and nothing goes for blending. All the spirit is 55ppm. 5 ton mashes are done sixteen times a week. The first wash is 17,500 litres at 64°C and the second is 5,500 litres at 80°C. A third wash at 85°C goes into the first wash of the next batch. Agitators in each wash back make the process more efficient by stirring up the yeast sediment so it takes less time to clean out the wash back. The full 2½ hour tour is excellent and now called Tasting At Two. It only runs on weekdays at 2pm.
The Ardbeg visitor centre and shop also contains The Old Kiln cafe where you can buy a quick snack or something more substantial.
Ardbeg was silent between 1981 and 1989 and ran at a low output until 1996. It was bought by Glenmorangie for £6m and this was £4m for the stock and £2m for the buildings. Production restarted in 1997 and then at a higher capacity in 1998. Older stocks were still available for sale and the excellent 1977 edition now fetches around £600 a bottle. Ardbeg was originally providing all its output for blending but now keeps everything for its own single malts, either as the 10 year old, Uigeadail, Corryvreckan, the latest An Oa, special editions or with various finishes. There is an Ardbeg 1815 50.1% limited edition bottling of 400 bottles at £3000 each to commemorate the 200th anniversary. The whisky was distilled in 1974 and 1975 and aged for 33 years with a further 8 years spent marrying in glass containers for preservation. The 1974 spirit was matured in bourbon barrels while the 1975 spirit was kept in sherry casks.
Tasting At Two £40
The tour and tasting guide was Emma. This tour appeared, superficially, to replace the Deconstructed Dram but they're not the same. Tasting At Two includes a distillery tour but leaves out the chemistry aspects that I found very interesting. You can still read about the Deconstructed Dram. The distillery has six wash backs, one wash still and one spirit still.

Note that a new HS&E manager, who worked previously in the oil industry, has changed the policy on photography: photographs cannot be taken in the still house or warehouse. The explosive limits for ethanol are 3.3% to 19% by volume of air, so there's a wide range where an explosion is possible, but what are the limits for human intoxication? Would you be unconscious before you could take a photograph in an environment that was dangerous? Answer here.
The tastings at Ardbeg were:
10 year refill bourbon, 57.3% first fill in Bourbon.
12 year toasted US virgin new oak cask, 57.3%. This was originally for Auriverdes.
12 year in first fill Oloroso, 57.1%.
Supernova limited edition 2015, 54.3%.
Grooves limited edition 2018 matured in various red wine and bourbon casks.
Note that the whiskies (1) and (3) above are what goes into Uigeadail.
Ardbeg no longer offers the opportunity to take away tasting samples as these were being sold for profit.
Purchases