Ardnahoe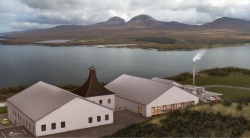 Ardnahoe is a new Islay distillery that can be found about 2½ miles up an unnamed road going north from the A846 about one mile from Port Askaig. It's easier to follow signs for Bunnahabhain, which is on the same road but 1½ miles beyond Ardnahoe. Ground work is underway (August 2017) and the distillery website is here. The developer, Hunter Laing, has opened a distillery shop at the Islay Square and is selling its existing brands. Ardnahoe merchandise is also available.
2018 Update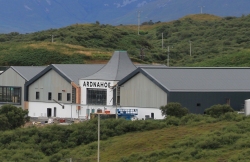 The new distillery was due to be open by May 2018 but "Islay Time" intervened and the new date is late September or early October. Progress in August 2018 is shown here. The cupola is still missing and there is still a lot of construction equipment around.
The distillery will produce only peated whisky from its four wash and two spirit stills. All output will be kept for its own use and maturing will take place on-site and on the Scottish mainland. There is no decision yet whether to run a 5- or 7-day operation. Jime McEwan, previously at Bruichladdich, is consulting.