Bruichladdich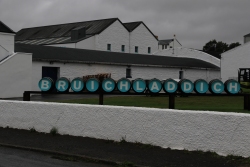 The distillery is located on the Rinns of Islay peninsula and was established in 1881. It had a difficult life, closing in 1994 and re-opening in 2001. It originally had its own maltings but these were removed and it now obtains its peated barley from Bairns of Inverness, though it uses Islay barley for its unpeated Islay editions. Bruichladdich produces three distinct ranges: unpeated as Bruichladdich, 35ppm peated as Port Charlotte and 160-350ppm as Octomore. The original Port Charlotte distillery closed in 1929 and only its name continues today. A few of the old distillery buildings remain and some are used for maturing the "Port Charlotte" brand.
Production is 1,500,000 litres per year. The distillery is owned by Remy Cointreau. Distillery output prior to 1994 was used for blending into White Horse.
The Warehouse Tour £25
The tasting guide was Ashley, who only started at the distillery in April 2018. No separate tour around the distillery was possible due to a prior block booking. The tasting tour followed the established pattern of three cask strength whiskies in ascending order of peatiness:
Cask 62, 1992. An unpeated whisky from the Bruichladdich range at 52.7%. Distilled in 1992 and spent its early life in a first fill Bourbon cask. The whisky was transferred to a new first fill Buffalo Trace cask on 20-Aug-2012.
Cask 30, 2004. A peated whisky from the Port Charlotte range at 61%. Distilled in 2004 and matured in a Bourbon cask for 8½ years and then in a Mouton Rothschild red wine cask from 31-Jul-2012 for 5½ years.
Cask 2, 2005. A heavily peated whisky from the Octomore range at 167ppm at 57.3%. This whisky was a forgotten cask that arose when a batch of casks was sent for bottling in 2012 after maturing for six years in Bourbon and six months in a Chateau d'Yquem. However, there were insufficient bottles and the surplus unbottled whisky was returned to this cask, sent back to the distillery and forgotten. It then continued to mature in the d'Yquem for a further 5½ years until found languishing in the warehouse. It is a unique cask and the oldest Octomore ever made available.
Purchases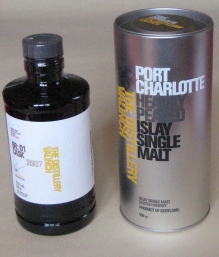 Bruichladdich has a well-stocked shop and had two casks available where you can fill your own 50cl bottle for £75.