Kilchoman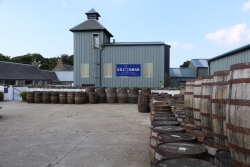 Kilchoman was established in 2005 and, though small, is expanding rapidly. Output will be increased to 220,000 litres per year by two additional stills and a new malting house is already complete. The design of the spirit still is such that it is supposed to produce quality spirit that does not need to age too long and can be drunk in 3-5 years. Kilchoman produces various editions, several with no age statement. Many editions are sold out at the distillery but may still be available online. The inaugural edition is a three-year old whisky. The distillery has upgraded its bottling plant to increase throughput. It is still semi-automatic but the manual effort is now reduced.
There is a good shop and cafe on site but it's very busy at peak times.
The tour guide was Eilidh and tasting was of the Machir Bay, which is a blend of 90% Bourbon cask and 10% sherry cask and Sanaig, which is a blend of 70% sherry cask and 30% Bourbon cask. The tour would normally include the malting house but this was closed having been booked for a wedding. There is one wash still and one spirit still though this will be expanded shortly.
PURCHASES
No purchases this year.