Safari Supper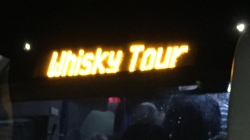 On Saturday 11th August 2018 there was a charity meal and fun auctions to raise funds for the islands choirs. The choir competitions are often on other islands and funds were being raised to fly the choir members there. The next competitions are for the juniors on Stornoway.
A bus collected guests from various pick-up points around the island and then took them to the distilleries at Lagavulin and Ardbeg for a three course meal - this year, Laphroaig was unavailable and so the main and dessert courses were both at Ardbeg. There were hot canapes at Lagavulin, a main course and a selection of desserts at Ardbeg. Of course complimentary drams of the local whiskies were available. The guest mix seemed to have more visitors this year at perhaps 30% and the remainder locals.
There was a charity auction of whiskies, wines, framed pictures, meals and accommodation. In total the evening raised £9780 from the auction and ticket sales at £65 each.