Laphroaig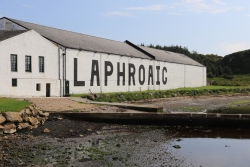 Established in 1815, Laphroaig shared its 200th anniversary with Ardbeg in 2015. The distillery produces 3,200,000 litres each year. It has three wash stills and four spirit stills. It makes 20% of its own malted barley, the remaining 80% coming from Port Ellen maltings. Although the specifications are the same, the two are mixed for each mash. The distillery uses one ton of peat for each seven tons of grain.
The distillery can be found on the south coast of Islay and is the nearest to Port Ellen. The visitor centre is impressive and includes a whisky museum and lounge. There is no cafe but free vending drinks are available. There is a £60 warehouse tour that covers the malting, smoking, mashing and distilling areas and ends up in a warehouse where you can taste three whiskies direct from the cask. Afterwards, you choose your preferred one and fill a 200ml bottle to take home in a presentation box.
There is inside and outside seating and the views are excellent. Shop.
Tour guide Jenny. Warehouse tasting was of three casks.
Cask 700040, 1998, 59.3%, rack warehouse 9, full maturation in sherry butt
Cask 45, 2004, 51%, dunnage warehouse 1, full maturation in bourbon
Cask 0002534, 2007, 52.9%, dunnage warehouse 1, full maturation in bourbon