Bowmore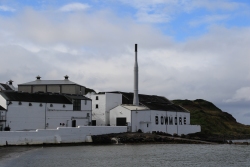 Bowmore was established in 1779 and has been in constant operation ever since. Since the early 1990s, it produces whisky only as a single malt. It is one of the three distilleries on Islay that malts its own barley, the others being Laphroaig and Kilchoman. It produces a core range and then various limited edition finishes and cask strength editions.
Excellent basic tour that covers malting, mashing and distilling. The distillery had only just restarted after its annual maintenance period and so we were able to go inside the malthouse, an area that is usually in use and out-of-bounds.
Tour guide Susan. Two wash and two spirit stills, nine wash backs.
The tastings at Bowmore were standard whiskies at 12 and 15 years old.