Bruichladdich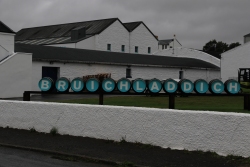 The distillery is located on the Rinns of Islay peninsula and was established in 1881. It had a difficult life, closing in 1994 and re-opening in 2001. It originally had its own maltings but these were removed and it now obtains its peated barley from Bairns of Inverness, though it uses Islay barley for its unpeated Islay editions. Bruichladdich produces three distinct ranges: unpeated as Bruichladdich, 35ppm peated as Port Charlotte and 200-350ppm as Octomore. Production is 1,500,000 litres per year. The distillery is owned by Remy Cointreau. Distillery output prior to 1994 was used for blending into White Horse.
The original Port Charlotte distillery closed in 1929 and only its name continues today. Some of the old distillery buildings remain and some are used for maturing "Port Charlotte" brand.
Warehouse tasting was three non-purchasable whiskies: a 1998 18 year old cask strength Bourbon, 2003 Port Charlotte 62% sherry, 2005 Octomore 60%. Three generous 25ml drams were enough to make the fingers tingle!
Excellent tour and warehouse experience. No cafe. Good shop, lounge.
Tour guide Raymond (standard tour) and Heather (warehouse tour). Four stills, plus one for gin.