Bunnahabhain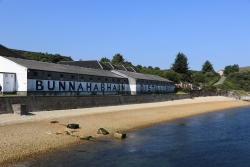 Situated on the northeast coast of Islay, Bunnahabhain was established in 1881 and, unusually, had few changes of owner. It is presently owned by Distell of South Africa, originally a wine company but with desires to move into whisky: Distell also owns Tobermory and Deanston. The distillery can be found down four miles of narrow, winding and undulating single track road off the A846 and clings to a rock hollow from which the stone to build it was quarried. Bunnahabhain had been designed from the start as a high-output distillery and after expansion in 1963 has a production capacity of over 3,000,000 litres per year but is producing only 1,600,000 litres today. The distillery has its own pier but this fell into disuse in the early 1990s and all incoming fuel and malted barley, and outgoing whisky, is by road. Maturation is done on site but bottling is done on the mainland.
The visitor centre and shop is quaint and by that I mean it is up an external staircase in a converted first-floor office no more than 12'x12', but this adds to its charm. The staff are friendly and knowledgable and tours informal. The distillery was coming the end of a silent period so was not actually producing anything, which made the still room a more pleasant place to be than if it had been operating.
It is only recently that Bunnahabhain has been available as a single malt. Prior to that it was a peated whisky that was destined for blending into Cutty Sark. It is now available in 12- and 18- year old unpeated and a variety of sherry and port finishes. Limited edition older releases are made from time to time, the next in October 2016 at 46 years and expected to cost £5000. Peated varieties are still produced and represent 10% of output. Peated barley comes from Port Ellen and unpeated barley comes from Simpson's, on the mainland.
Bunnahabhain means 'mouth of the river', and that would be the Margadale River, and shares its name with the hamlet that grew up nearby.
Tour guide Marie. No bottling. Sample was Bunnahabhain 12.