Lagavulin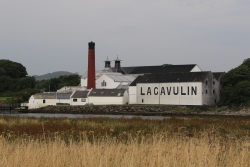 Lagavulin is located between Laphraoig and Ardbeg on the southeast coast of Islay. The distillery produces 2,400,000 litres a year for its 16 year old whisky. The shop and visitor centre is an unexpected but pleasant surprise with its tongue-and-groove panelled walls and weathered look. The distillery celebrated its 200th anniversary in 2016.
30% of Lagavulin's output goes into White Horse, a blended whisky. The remaining 70% goes to produce single malts under the Lagavulin name. Lagavulin currently produces a 200th anniversary 8 year old, its usual 16 year old and various other editions including a distiller's edition with 3-6 months finishing in sherry casks.
Tour guide was Sarah. Four stills. The distillery has its own pier. Ten wash backs. Samples available were 8, 16, distiller's and quarter cask.