Arran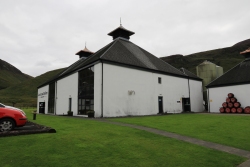 Only established in 1995, the Arran distillery already has a wide range of single malts both unpeated and with a variety of finishes. Standard malts are the 10, 12 (cask strength) and 14 year olds. The double matured whiskies have no age statement but are said to be 8 year olds with 10 months in the finishing casks previously used for Sauternes, Madeira, port and sherry. Arran Gold is a very drinkable whisky-and-cream liqueur. An excellent guided tour though no visit to the bottling plant or the warehouse. Arran is only a small distillery producing about 500,000 litres in 2016 but planning to ramp up production to 650,000 litres in 2017.
Arran distillery is the only one on Arran and is located just outside Lochranza on the northeast corner of the island. If you're travelling from Brodick, allow 30-35 minutes for the 14 mile journey. You can do it in less time (23 minutes) when there is no traffic and while still complying with speed limits.
Tour guide Stewart @ArranTGStewart. Excellent tour with a dram before you set off. Good cafe. No bottling or warehouse. Two stills.