Dartmoor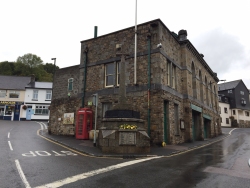 The Dartmoor distillery was established in 2017 following a few years of gathering together the required hardware and expertise from both Scotland and France. The distillery is located in the former Town Hall in Bovey Tracey in Devon. There is no distillery tour as such, because the stills are in the tasting room. Mashing adn fermentation is done elsewhere and only the distilling takes place at the Town Hall.
Tastings
The following whiskies were tasted:
Bourbon Cask - Golden colour. Vanilla aromas. Toffee, creme brulee and marshmallow, Sweet, honeyed finish
Bordeaux Cask - Warm red colour. Soft fruit and blackcurrant aromas. Gum, coconut and chocolate palette. Sweet floral finish
Oloroso Cask - Rich, golden colour. Sherry and fruit aromas. Initially sweetness, then hazelnut, coconut, marzipan and sultanas. Some gingerbread and treacle. Long finish.
So far, all bottled whisky is from single casks, though it is not sold as such.
Purchases
Bourbon Cask