Benromach A testing evening at Rodney Densem Wines in Nantwich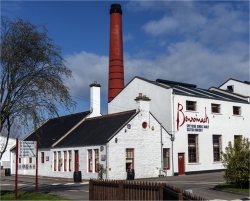 The Benromach distillery is located in Forres and was founded in 1898 by Duncan McCallum and F.W. Brickman. Distilling started in 1900 but stopped shortly afterwards due to lack of funds. In 1911 it was bought by Harvey McNair & Co. The distillery had various owners from then: Benromach Distillery Ltd and Associated Scottish Distilleries Ltd. that later became a part of Scottish Malt Distillers Ltd.
Distilling continued until the downturn in global whisky demand in the 1980s when the distillery, then owned by Distillers Company Limited (the forerunner of Diageo), was mothballed in 1983. The distillery closed in 1988 and the internal assets removed for use elsewhere, leaving the buildings as mostly empty shells.
Gordon and McPhail bought the distillery and its stock in 1993 and took five years to bring it back into a state for distilling once again. Benromach is the second smallest distillery in Scotland and produces 850,000ℓ of new make spirit each year. Incidentally, the smallest distillery is Ballindalloch. Benromach uses all manual processes to make whisky, whereas most modern distilleries have computer-controlled process equipment. Casks are all first fill, whether bourbon, wine or port, except for the virgin Organic. The bourbon casks are supplied by Heaven Hill and Jim Beam. They arrive dismantled in a container and are re-assembled at the Speyside Cooperage.
In June 2020 Benromach is undergoing a rebranding with new logo and packaging. The range is also being modified - the line up will be: 10yo, 15yo, a new 21yo, Cask Strength, Organic (though this may be renamed), Peat Smoke. There's no mention of the Wood Finish.
Although some of the Benromach whiskies are peated, they use Highland peat that has a milder impact than the robust peats that are used for Islay whiskies.
Six whiskies were available for tasting. The event was hosted by Ben Bowers.
Ten Year Old - a 43% whisky with 8-12ppm peat. The whisky is a vatted blend of 9yo sherry and 9yo Bourdon that is then matured for a further year. Flavours were of wet leather, orange peel and gave a dry finish.
Fifteen Year Old - a 43% whisky matured in the same way as the Ten but with five more years in sherry casks. This had more depth of flavour than the Ten.
Cask Strength - distilled in 2009 and bottled in 2020, this whisky is from various casks and bottled at 58.8%. Warming flavours of licorice, treacle, sherry and light smoke characterise this whisky.
Organic - distilled in 2011 and bottled in 2020, is 43% and matured in virgin oak barrels from Missouri. Flavours of pepper, oak, toffee but they tend to be somewhat thin and lacking in depth.
Wood Finish - three wood finishes are available and this one was the Sassicaia finish at 45%. Sassacaia is an expensive Italian red wine from Tuscany. This whisky is matured in bourbon casks for six years and then twenty five months in Sassicaia gives it a pink tinge. Flavours are mostly dry, tannin and citrus and the taste taste is quite astringent, almost effervescent.
Peat Smoke - a whisky at 46%, based on the Ten and distilled in 2008 and bottled in 2018. Highland peat from Aberdeenshire is used to provide about 47ppm. Flavour is fresh, lively and creamy with a treacle and licorice finish.
Purchases